5 Smartphone Apps That Will Improve Your Running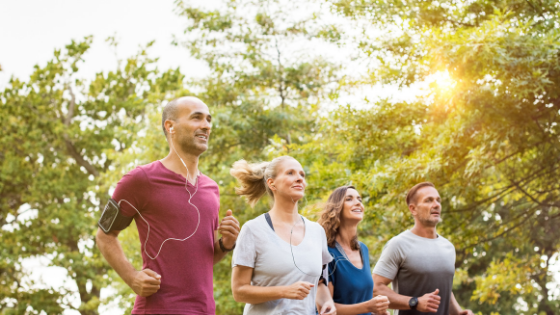 If you want to start running or are currently a runner there are so many helpful apps on your smartphone for the quick 5k or the long journey marathon. You can grab a pair of running shoes and exercise clothes and hit the road but you might as well bring some help with you!
Today, I am going to share 5 great apps and tips to bring some healthy tech into your runs.
How do I bring my phone with me?
I understand it's uncomfortable to have your phone bouncing around in your pocket or an annoyance to carry in your hand. What has made my runs much easier is buying a cell phone armband. A quick search on Amazon will bring multiple styles that will fit your phone and generally cost around $10-$20 dollars. They wrap around your arm and most have a clear plastic screen so you can still use your touch display. They are quite handy to bring your smartphone with you!
Once you have an armband to bring your phone with you comfortably, it opens up a ton of new possibilities for your run! Such as having music services like Google Music or Spotify to push you farther with your favourite song jamming in your ears. If you hate having your headphone cord bounce all around, you can buy wireless earbuds for around $20 to $60 on Amazon.
Let's get into the apps! There are a ton of running apps for beginners, long-time runners, and people looking to have fun with their runs. Below are a couple I found helpful.
Run Keeper – IOS/Android Compatible
This is the app I currently use and I love it! It has everything a new or seasoned runner needs.

There are training plans to meet the goals you are after such as training for a 5k or a marathon. It has a personal coach who will motivate you on your runs, update you with stats such as distance traveled and average pace and will still allow your music to play with the app open.

It also tracks all of your runs on a map to show you how you are improving. It can track many other activities such as cycling, cross country skiing, swimming and much more.

Lastly, it has running groups that allow you to invite fellow runners to keep each other accountable and attaining new goals. The best part is the app is completely FREE and can be upgraded for extra options for $13.99 a month.
5k Runner – IOS/Android Compatible
This is perfect for all beginner runners who want to follow a scheduled plan that will have you running 5k in only 8 weeks! It has a really easy interface to use and it breakdowns how your run will look each day. It begins by having the user walk and run during each session to make it easy for a runner to not feel overwhelmed. The first week is free and then the app must be upgraded for a one time purchase of $13.99.
Pacer – IOS/Android Compatible
This app is designed to track your runs but more specifically it can track your steps for the whole day. It has many different workout programs including strength training. This app would be a perfect companion to your running apps, as it will measure how active you are being through your whole day and not just your run. It also is compatible with smartwatches to keep from having your phone in your pocket all day.
This is by far the coolest and most innovative app that everyone should download for free right now! This app will donate .25 cents for every mile you walk, run or cycle to 1 of the 40 charities you pick. There is no catch and the app has raised over $2.75 million dollars already! This is a perfect way to help others with an activity you were already planning to do.
If you find running boring, this app brings the excitement you are seeking when you run as it turns it into a game. It places you in the well-worn sneakers of a survivor after the walking dead rise to snack on brains. You listen to "missions" through your headphones and go for runs in the real world. When the undead get on your tail you better start picking up the pace! The game has quite an in-depth story and much more to offer even when you are not running.
Those are just a couple of apps among many that can help you on your run. Find what works best for yourself but most importantly, get out there and start running!

LUKE