The Benefits Of Barefoot Shoes With Sarah Pearce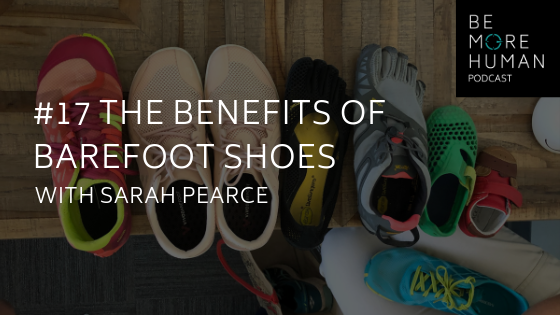 Did you know your feet contain 26 bones, 33 joints and over 100 muscles, ligaments, and tendons… each!
25% of the bones in your body are in your feet.
The natural foot is wide (fan shaped), flexible (with three arches) and sensory (with thousands of nerve endings).
On this weeks episode we chat with Sarah Pearce – Postnatal Fitness Expert, 16 year veteran of the Royal Navy, and barefoot shoe enthusiast about the importance of the feet for healthy joints and muscles in the spine, pelvis and lower limbs and for pelvic floor function (for women AND men!).
On This Episode:
Find out how a thin, wide and flexible shoe can help your physical health (think calf, shin, knee, hip, low back and pelvic floor!)
Why an improper transition to barefoot shoes has given them a bad rep in the past.
How to transition properly to wearing more minimalist shoes to avoid discomfort or injury.
Find out what brands and levels of barefoot minimalist shoes are available and which ones Sarah recommends for adults, walking, running etc.
Connect with Sarah: website, facebook, instagram.