COVID-19 PIVOT EPISODE WITH THE TIPSY MUSE CAFE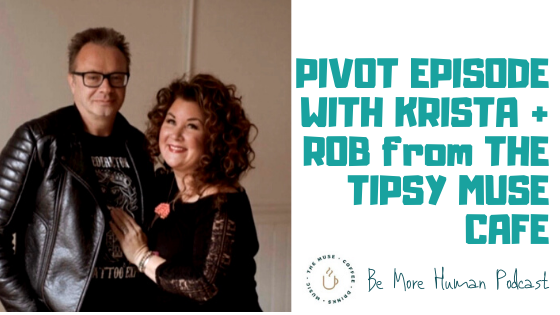 Everyone hopes when they start a new venture, that it will thrive as it fills a needed, and underserved, niche. For music educator Krista Touesnard and her radio broadcaster husband, Rob Pinnock, not losing sight of the mission statement; providing an inclusive, creative hub that aims to amp up the coffee culture in Fredericton has been key to the success of The Muse in its first year of existence.
On this PIVOT episode we have the pleasure of interviewing Krista and Rob (via Zoom call!) to learn more about what their business looks like right now. They have only been open for a year yet it feels like the Muse has been a downtown Fredericton staple for much longer than that.
One of the most difficult things about this time for business owners is not being able to do what they are most passionate about. We love chatting with other local businesses to connect YOU with them, their passions and how you can still take advantage of their awesomeness while isolating.
What we covered:
how their dream for a community and music based coffee hub turned into a reality
how they have embraced and built excitement around coffee culture and live music in Fredericton
the stresses of being open during a pandemic
what they are serving up: high quality coffee and delicious food during a state of emergency. Curb side pickup and delivery!
how they are expanding their current offerings and thinking outside the box
find out about their Easter delivery special!
what they can't wait to start doing again when this is all over
Get in touch
Tipsy Muse Website
Tipsy Muse Facebook Page
McGuire Chocolate Company in Saint Andrews, NB