Recipe: Classic Paleo Meatloaf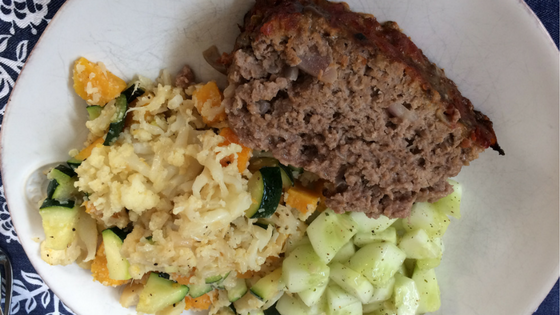 Meatloaf is not something I grew up eating, but in my adult life I have come to love this delicious comfort food.
We started picking up grass fed ground beef and brisket from the Villeneuve Family Farm at the Boyce Farmers Market recently – very impressed with the quality! If you haven't checked out this spot at the market for meat & veggies make it a priority this weekend.
We also tried some of their homemade salsa – possibly the best salsa I have ever tasted!
So I bring home the ground beef and I weigh the options:- meatballs, burgers or MEATLOAF! I chose the meatloaf and it was a big hit in the Norton household (both Dr. G and Zoey loved it) so I thought it was worth sharing with all of you.
I adapted the recipe to include healthier ingredients (like coconut flour rather than wheat flour and nut milk rather than cow's milk).
Classic Meatloaf
Prep time: 10 minutes
Cook time: 80 minutes
Ingredients
1.5 lbs lean ground beef
1/2 cup coconut flour
3/4 cup of almond or cashew milk (unsweetened)
1 egg
1/2 cup onion, finely diced
1 tsp himalayan salt
1/4 tsp black pepper
1/3 cup salsa or ketchup
1 tbsp coconut sugar
1 tbsp yellow mustard
Directions
1. Preheat oven to 350 degrees
2. Combine ground beef, coconut flour, milk, egg, onion salt and pepper in a medium sized bowl. Using your hands, incorporate all ingredients into the meat. Don't over mix! (this should take 30 seconds or less).
3. Transfer the mixture into a large loaf pan and press it down evenly.
4. Mix ketchup or salsa, coconut sugar, and mustard in a small bowl. Pour overtop of the meatloaf and spread evenly.
5. Bake at 350 for 80 minutes.
6. Remove from oven and drain off any excess grease. Let stand for 5 minutes before serving.
Try it out and let me know what you think! We had a cucumber salad and mixed roasted veggies on the side (zucchini, cauliflower and squash).