27 Ways To Get Active In Fredericton This Winter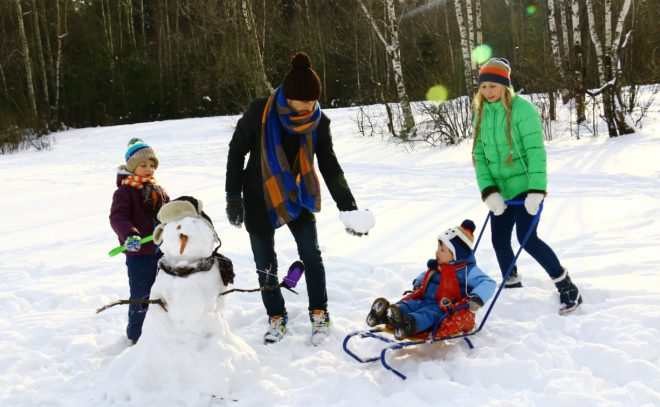 Winter is llllllllllllllong in New Brunswick and it's still January. Already feeling like you've entered hibernation mode?
You don't have to love winter but you can definitely embrace it.
Here are 27 ways to help you get out of hibernation mode:
1. Skating at Officer's square (you can even go on your lunch break!)
2. Skiing or snowboarding at Crabbe Mountain
3. Hot yoga class at Dynamic Yoga
4. Yin Yoga class at the Brookside Wellness Centre
5. Make snow angels
6. Build a snowman
7. Snowshoeing at Mactaquac (they have free rentals!) or Killarney Lake
8. Cross country skiing at the woodlot, Kingswood or Killarney
9. Shovel your driveway after a storm
10. Skate on the headpond at Mactacuac
11. Have a snowball fight
12. Build a fort
13. Downhill sliding with crazy carpets or toboggans at O'Dell Park
14. Go for a walk on a sunny day, downtown or on the trails!
15. Use the indoor walking track at Willie O'Ree or Grant Harvey on a really cold day
16. Get your kids into all their snow gear… full body workout
17. Scraping the snow and ice off your car after a storm… another full body workout
18. Shovel the accumulated snow off your deck to reach your BBQ
19. Try out a new gym with personalized programming at Athletic One
20. Play pond hockey
21. Try playing squash at the YMCA
22. Go for a swim at the Fredericton Indoor Pool
23. Put on your favourite music and have an indoor dance party
24. Clean out your closets and basement, then lug all your stuff to a Community Donation Box
25. Check out Frostival events
26. Go bowling at Kingswood
27. Try curling at the Capital Winter Club
There you have it. No more excuses. What are you going to do this weekend?