Recipe: African Peanut Stew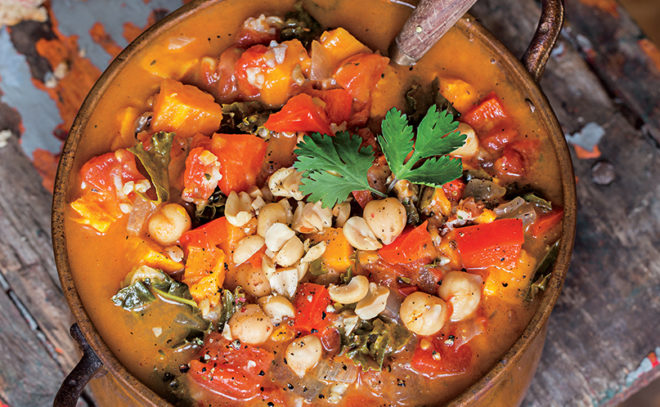 YUM!!!! This soup is EASY to make and really yummy. My daughter Zoey loved it too, probably because of the peanut butter flavour.
Oh She Glows has so many great recipes you should try…. you can start with this one:
African Peanut Stew
Serves: 4-6
Ingredients:
1 tsp extra virgin olive oil
1 medium sweet onion
3 cloves garlic, minced
1 red pepper, diced
1 jalapeno, seeded and diced (optional) [I used one 4-oz can of green chili peppers]
1 medium sweet potato, peeled and chopped into 1/2-inch pieces
1 28-oz. can diced tomatoes, with their juices
salt and pepper to taste
⅓ cup natural peanut butter
4 cups vegetable broth
1 ½ tsp chili powder (optional)
¼ tsp cayenne pepper (optional)
1 15-oz. can chickpeas, drained and rinsed
2 handfuls baby spinach or kale (destemmed)
Fresh cilantro or parsley, for garnish
Roasted peanuts, for garnish
Directions:
In a large saucepan, heat oil over medium heat. Add onion and garlic and saute for five minutes, until onion is translucent.
Add bell pepper, jalapeno, sweet potato and canned tomatoes. Raise heat to medium-high and simmer for five minutes. Season with salt and pepper.
In a medium bowl, whisk peanut butter with one cup vegetable broth until no clumps remain. Stir into large saucepan with remaining three cups vegetable broth, chili powder, and cayenne.
Cover pan and reduce heat to medium-low. Simmer for 10-20 mins until sweet potato is tender.
Stir in chickpeas and spinach and cook until spinach is wilted.
Ladle into bowls and garnish with cilantro/parsley and peanuts. You can add some leftover rice for a heartier meal, too.
I often make it without the added spices (jalapeño, chili, and cayenne) and love the flavour!